Meet our new Women's Pastor
Meet Jennifer Kelly, Ignite's new Women's Pastor. We could not be more excited to add Jennifer to our Ignite family to help lead women to become fully devoted followers of Christ.

Jennifer is an avid reader, writer, life-long student, and follower of Jesus. She loves being outdoors and going on walks with her family. She will be joined at Ignite by her husband, Mike, and their three daughters, Kaytlin, Khloe and Addilyn.

Jennifer graduated from Colorado Christian University in 2017 with a B.A. in Biblical Studies. Currently, she is working toward attaining her M.Div at Fuller Theological Seminary.

As we mentioned, one of Jennifer's incredible talents is writing. She has a website and blog we would love for you to check out. There you can learn a little more about her and be encouraged by her blog, specifically written for women.
A few words from Pastor Jen
To say that I am "thrilled" to be Ignite Church's Women's Pastor is an understatement. What an incredible honor and privilege it is to be a part of what God is doing in this amazing community. What better mission is there than helping people become fully devoted followers of Christ? I get to marry that mission with my love and joy for women's ministry and pastoral care. I can't wait to see what God does next.

Trust me when I say, I didn't start out where I am now. I love Jesus because He loved me at my worst ... and I was at my worst for a really, really long time.

I'm sure if we were able to sit and chat over coffee and bread, my eyes would fill with tears over your own story. Each and every one of us has special depth and relevance to this world that is specifically designed for this very time and space.

Here's to living our best life for God, in-between grace.

-Pastor Jennifer Kelly
She is clothed with strength and dignity; she can laugh at the days to come.
Tapestry is the women's ministry of Ignite Church. This is a place for women to connect with other women at Ignite and grow together in sisterhood and purpose. We have quarterly large gatherings and smaller gatherings in between.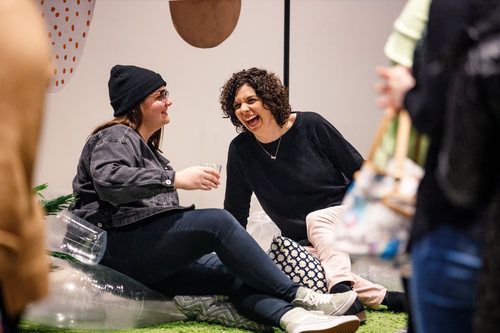 The Discipleship Collective is a year long mentorship program designed to bring women together as they walk through scripture and real life topics. Register to either be a Mentor (someone who leads another woman through this curriculum) or a Mentee (someone who is led through this curriculum)

Once you register our team will work diligently to get you in contact with a Mentor or Mentee.
Get connected. Go deeper.
Find other women at the church to walk through life with and grow in your walk with Christ.
We'd love to hear from you. Fill out the form below to get started.